Coolbaby Book Review – Cycling Autobiographies
Now that the Tour de France is in full swing Coolbaby Book Review takes a look at three very engaging but very different Cycling Autobiographies. We would love to hear what you think or if you have any other suggestions for book reviews.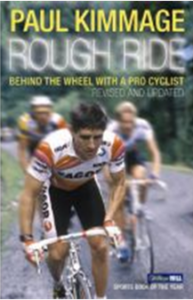 First published in 1990 and winner of William Hill book of the year, Paul Kimmages' honest account of life at the back of the peloton broke the mould in cycling autobiographies. Kimmage was well before his time in lifting the lid on the doping epidemic within professional cycling. It is also a great insight into such a tough sport where you are expected to put all your effort into riding for your team leader. This is a great read and no surprise that he went on to become an excellent journalist.
CBR Rating: 9/10
Ten years later came this blockbuster from Lance Armstrong. This book deals more with his fight with cancer than his cycling exploits, however his victories in the Tour de France are well documented. For years this book was an inspiration to cancer sufferers and sports fans of all persuasions and again a fantastic read. We now know much more about how Lance really achieved his cycling victories and while his use of performance enhancing drugs wipe out all his achievements on the bike, I would still recommend this book as an engaging read, but I mark it down a little because of what we now know.
CBR Rating: 8/10
Twenty two years after Kimmages' ground breaking book, the truth about how performance enhancing drugs were so prevalent in professional cycling was revealed in graphic detail in this gripping autobiography, which surprised me considering this book details Hamiltons' years of dope cheating. It is his candid honesty without offering an excuse that give this book its character and you cant help but have a warm feeling towards Hamilton. It is interesting to compare your opinion of these three cyclists, while Kimmage is head and shoulders ahead, I had good respect for Hamilton in the end. As for Lance…
CBR Rating: 9/10
All books available on http://www.amazon.com/books